Small 2×2 Bedroom Design for Girls
Seeing the price of houses that are getting more expensive every day, it is not surprising that the size of the house will also be increasingly limited. As a result, it is not surprising that every room in the house is small too. For example in a house type 30/60 or type 36/72, the size of the bedroom tends to be minimalist about 2×2 meters.
Although not spacious, a 2×2 bedroom can be transformed into a bedroom that is comfortable, spacious, and contemporary as long as it has a neat design. For that, this article will provide inspiration for a small 2×2 bedroom design for women that is guaranteed to make the room feel spacious and contemporary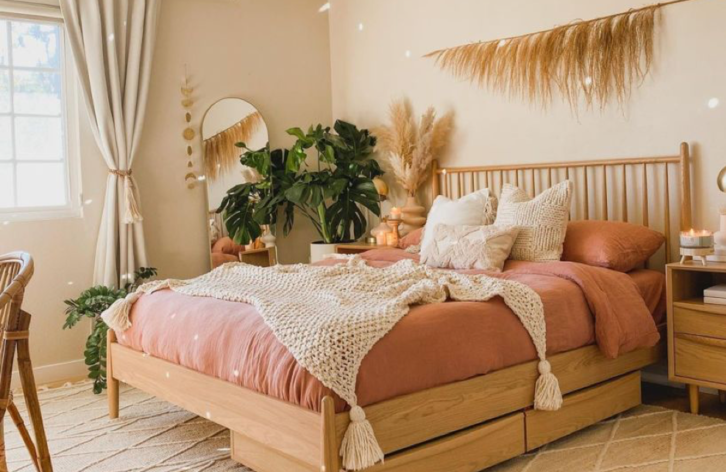 Small 2×2 Bedroom Design for Bohemian Style Girls
This small bedroom design for 2×2 has a bohemian style. Bohemian style can be obtained by using neutral colors, such as brown, white, beige, with the addition of colors as accents such as cool mauve.
To make it look more attractive, the room can be given several accents such as decorative lights or large plant pots beside the bed. Rooms with bohemian designs are also not afraid to present a 'layer' without going overboard because they generally don't have a lot of furniture in them.
Small 2×2 Bedroom Design for Girls Natural Style
Natural concept rooms are synonymous with something natural, from the colors used to the various furniture in the room. This bedroom design is also perfect for those who want to have a room that feels cool but still spacious and contemporary.
Beautify the bedroom with lots of pots filled with green plants to make the room look fresher. Then combine it with natural colors, such as brown, white, gray, and the like to support the appearance of the room.
Eclectic 2×2 Small Bedroom Design
Many people mistake an eclectic bedroom with a room that combines a variety of colors and ornaments. In fact, designing an eclectic room has its own rules so that the room doesn't look 'messy', especially a small bedroom with an area of ​​2×2.
Combine furniture with different styles that complement each other, rather than collide with each other. For example, plant ornaments, boho-style decorations, and walls that give a modern impression. Instead of looking messy, the room is harmonious.
Minimalist 2×2 Small Bedroom Design
For those who carry something completely minimalist, you can try this 2×2 bedroom design for women. With a limited area, this bedroom can be a relaxing and comfortable resting place for its occupants. One of the tips can be to maximize storage space.
Under the bed that is usually 'wasteful' has been transformed into a storage area for clothes and other accessories. So that the room looks more beautiful, provide decorations such as chandeliers, or other simple decorations.
All-White 2×2 Small Bedroom Design
The next design inspiration for a small 2×2 bedroom is an all-white room design. Bright colors like white have been known to make a room look spacious and spacious. Not only that, an all-white room can also make the room bright so that it can maximize natural lighting.
In order not to look monotonous, you can combine an all-white room with a floor or carpet that has another color, such as brown. That way, the bedroom looks contemporary and attractive for sure.
Small 2×2 Cottage-style Bedroom Design
The cottage-style 2×2 bedroom design is another bedroom design for women. What's interesting about this cottage-style design is the wall game that uses wood panels in a warm tosca color.
In addition, the choice of colors for bedding is also in harmony with the color of the walls so that they can complement each other. Natural lighting that enters the bedroom area also adds a fresh feel to the bedroom.
Small 2×2 Two Color Bedroom Design
In order to give dimensions to a small bedroom with an area of ​​2×2, you can try a two-color room design. The trick is to combine two colors that are quite contrasting on the walls. Such as gray and yellow.
How so that these two colors can complement each other, choose a bright color, namely yellow, as an accent on the wall that has been made into a shelf. To make it look harmonious, choose bedding or decorations that are also yellow. To neutralize the two colors that are actually quite opposite, use white.
Feminine 2×2 Small Bedroom Design
For those who want a feminine bedroom, this small 2×2 bedroom design can be a solution. Soft color choices give a feminine impression such as pastel pink or peach on the walls of the room, or combine it with floral wallpaper.
Typical furniture that reinforces the feminine impression includes a classic or shabby chic style dressing table and mirror, a bedside table, and a sweet lamp. Avoid bright colors, you should still play in a soft color palette.